CHARLOTTE FACTS
Exploring the Landscape of The Queen City
For the Church to most effectively meet the needs of Charlotte, it requires that we know and love our city. Below you will find an overview of the demographic, societal, and spiritual landscape of Charlotte. It has been our attempt to take an honest look at both the amazing aspects of Charlotte's landscape, as well as the challenges facing out city.
DEMOGRAPHIC LANDSCAPE
CHARLOTTE IS A GROWING CITY:
Charlotte is the 16th largest U.S. city, and has the 22nd largest metro area.
2016 estimated population of Charlotte: 836,973.
2016 estimated population of the Charlotte Metro Area: 2,380,314.
109 people move into Charlotte every day.
Charlotte is predicted to increase by more than 1 million people in population by 2050.
Charlotte is the 5th fastest growing metro from 2000-2012 of the 52 largest metro areas.
Charlotte Douglas Airport is the world's 6th most-active airport in terms of takeoffs and landings and the nation's 8th busiest in total passengers.
CHARLOTTE IS A DIVERSE CITY:
As of January 1, 2015, the estimated Charlotte population by race was:

White – 383,733
Black – 283,142
Hispanic – 111,837
Asian/Pacific Islander – 46,306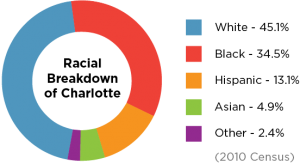 At an estimated 137,000 immigrants, 1 in 7 Charlotteans is from a foreign country.
An estimated 600 refugees resettle in Charlotte annually.
1 in 4 Charlotteans (an estimated 235,000 people) is a millennial (ages 20 to 34). This millennials Charlotte's largest generation.
CHARLOTTE IS A DIVIDED CITY:
Based on the 2014 Harvard University and UC Berkeley study, Charlotte ranks 50th out of the 50 largest cities in America in Upward Mobility. The study showed that Charlotte is deeply divided because of the following issues:

Economic Mobility and Generational Poverty
Educational Inequality
The Breakdown of the Family
Racial Division
Low Social Capital (the measure of trust in a society)
SOCIETAL LANDSCAPE
CHARLOTTE IS AN ECONOMICALLY POLARIZED CITY:
Charlotte is the 2nd largest financial center in the US.
With 5 Fortune 500 companies, and 10 Fortune 1000 companies headquartered in Charlotte along with another 2 Fortune 500 companies located in the Charlotte-Metro area, Charlotte is the 20th ranked metro area in the US.
There are 950 foreign owned firms in the Charlotte metro area.
We are home to Duke Energy, the nation's largest electric power holding company.
Charlotte ranks 2nd in the best areas for job-seeking college graduates.
The current Charlotte Unemployment Rate is 5.26%.
At the same time, Charlotte is home to 1818 chronically homeless individuals.
Despite a booming housing market, there are 31,723 people in Charlotte on the Charlotte Housing Authority Choice Voucher waiting list. An indicator of the need for affordable housing in our community. Only 200-240 vouchers are given out annually.
CHARLOTTE IS AN EDUCATION CITY:
With more than 145,000 students, Charlotte-Mecklenburg Schools (CMS) is the 18th largest district in the nation.
Within the Charlotte region, 25 public and private institutions offer baccalaureate degrees. 18 schools that offer graduate opportunities, master or doctoral programs, in a variety of disciplines.
In 2015, 39% of third graders in Mecklenburg County read at grade level.
CHARLOTTE IS AN EXCITING CITY:
Charlotte is a hub of sports, arts and culture.
Charlotte is home to the:

Carolina Panthers
Charlotte Hornets
NASCAR
NASCAR Hall of Fame
Charlotte Knights (Chicago White Sox's AAA affiliate)
Charlotte Hounds (a Major League Lacrosse Team)
Charlotte Independence (a USL PRO soccer team),
PGA's Wells Fargo Golf Championship

The Charlotte's Arts and Science Council is the 5th largest united arts fund campaign in the US.
Charlotte is the home ofDiscovery Place and ImaginOn, which was recently ranked the top children's museum in the country.
CHARLOTTE IS A GENEROUS CITY:
The Foundation for the Carolinas is one of the largest community foundations in the country with total assets owned and represented: $1.85 billion, total Gifts: $213.7 million, and total Grants: $142.9 million
This past year, the United Way of Central Carolinas raised and invested over $17 million dollars into the community
Ranks 1st among top 10 cities with the best employee engagement.
SPIRITUAL LANDSCAPE
CHARLOTTE IS A CHURCHED CITY:
There are roughly 960 churches in Mecklenburg County.
At 52% of Charlotteans attending church weekly, according to Barna Research, Charlotte is one of the most-churched, large cities in the country per capita.
CHARLOTTE IS A BIBLE MINDED CITY:
According to Barna, we are the 8th most Bible-minded city in the US.
Charlotte is a hub of theological education, with 5 major seminaries:
CHARLOTTE IS A SENDING CITY:
The greater Charlotte area is home to the following evangelism and mission agencies:

Billy Graham Evangelistic Association
JAARS (Arm of Wycliffe Bible Translators)
Missionary Support Services
Samaritans Purse
Samaritans Feet
SIM (Serving in Mission)
South American Mission (SAM)
TEAM (The Evangelical Alliance for Mission) (Field office)
United World Mission
With Open Eyes
THE CHARLOTTE GOSPEL MOVEMENT:
For an incredible summary of the Queen City, see the video below from Bishop Claude Alexander, Senior Pastor of The Park Church, and For Charlotte board member, as he speaks on the main stage at Movement Day Global Cities 2016.
PRESENTATION SLIDES: The Charlotte Gospel Movement Presentation